la pura vida


~stay

tuned~ © 2004-2005 by kwikstep All rights reserved sound © 2002 by shroombab & polarity All rights reserved

https://myblog.de/kwikstep

Gratis bloggen bei
myblog.de


Well the day begins
You don't want to live
'Cause you can't believe
In the one you're with
'Cause you know her tricks
And you know her past
When she makes a face
You just have to laugh
And you feel like such a know-it-all
When you only want just a tiny girl
And you hope she'll sing.


So you turn around
Toward the tiny girls
Who have got no tricks
Who have got no past
Yea that's what you think
And you hope she'll sing
But she sings of greed
Like a young banshee
And she wants for this
And she wants for that
What did you think.


Iggy Pop - Tiny Girls
also schön, wir machen weiter.

noch jemand da?

es gibt massenhaft neuigkeiten. es hat sich viel verändert. euer lieber kwikstep ist jetzt unternehmer, jaja. das heisst nicht, deass ich ein reicher pinkel bin. ganz im gegenteil...

lustigerweise hat dieser alte blog rund 3000 views. hm, mehr als mein myspace account oder so.

in diesem sinne, meldet euch mal. damit ich weiß daß es euch noch gibt. und euch alle neuigkeiten erzählen kann.

z.b. gibts ein geiles neues album von einem 2meter großen schwarzen sex rocker. den lieben george clinton (den musiker, nicht den pfui pfui politiker) hab ich getroffen. und so weiter.

die musikindustrie ist tot. das sagen zumindest die promoter, die die so manchen hit gemacht haben. erinnert sich wer an "who let the dogs out"?

also gerüchte verdichten sich, ehm sind schon sehr dicht, dass zwei drittel der mitarbeiter bei major labels mit anfang 2008 gefeuert werden.

soweit das aktuellste. gefällt euch, oder? i knew it.
ich bin von einer woche sziget (budapest) zur?ck, und leute ich kann euch sagen, es ist das beste festival ?berhaupt. habe 22 oberaffengeile konzerte gesehen. ausserdem meine kontakte in Jamaica aufpoliert, mit den Wailers gesprochen, ja die von Bob Marley; und mit T.O.K. also ich ?berleg mir jetzt irgendwie ob ich maln paar reggae songs schreibe.. w?r ja auch mal was anderes als drum and bass remixes, nich..
ich hab mich verknallt

und ich bin mir nicht ganz sicher ob das gut ist


I confide to anything
So I have to hide from everything.
Everybody wants a piece of me.
Rinse the origin and cease to be
Sit back and let it happen,
Let us take your time away
I don't understand you.
I don't want your time of day.
If you're gonna walk, might as well walk your way,
Always walk the whole ways,
Forget the punk, I pack the funk.
I'm gonna take a piece of you.
Making money for good health
But first I learn to see myself
But first I learn to see myself
You've promised me poems
You've promised me poems
You've promised me poems

I rue the day that I ever met you,
And deeply regret you getting close to me.
I cannot wait to deeply neglect you,
Deeply forget you, Jesus believe me,
You promised me poems.
You might have been my reason for livin'
I gave up ungivin', gave up everything.
We were a right pair of believers
A couple of dreamers, so how come
You hate me?
You promised me poems
You promised me poems
You promised me poems
You promised me poems

Dreamed of ringing voices,
They contemplated choices.
Taste like a rare kiss,
To heighten my awareness.
With all fairness, greatness, with gratitude.
And simply rhymes with attitude
Now do promotion and TV, and ya still can't see. We
Down the hill cascade
And keep away the masquerade,
Dreamed of ringing voices,
And you promised me poems
You promised me poems
You promised me poems
You promised me poems

"Poems" by Tricky
June 19, 2005

Don't let yesterday use up too much of today.
-Cherokee

----------------------------------------------------------------

Morning Prayer:

O Great Spirit of our Ancestors... To your messengers the four winds, and to Mother Earth who provides for your children.

Give us the wisdom to teach our children to love, to respect, and to be kind to each other so that they may grow with peace in mind. Let us learn to share all the good things that you provide for us on this Earth.

-----------------------------------------------------------------

THINK ON THESE THINGS
by Joyce Sequichie Hifler

A tiny yellow flower was lost in the grass until an orange and yellow butterfly found it. They stirred up interest in it until it had to be investigated. Amazingly, there were flowers everywhere in the grasses.

Little things are often dwarfed even more until something equally small leads us to them. We've been told not to sweat the little things and yet, it is the small things we accidentally see that are our greatest finds.

The plan for our lives might not always include an orange and yellow butterfly. Maybe it is the small words, the little caring things that pushes us to develop an ability we didn't know we had. We can learn the value of hidden talent and wait for it to lead us.

-----------------------------------------------------------------

June 19 - Cherokee Feast of Days
by Joyce Sequichie Hifler

Some of us have kindred souls that understand what we feel, what we think, and what we need. These special people seldom bother with a lot of talk - but their quiet companionship is balm to the spirit and enough without words. Wherever we are on the pathway - the Cherokee calls it "ga lo hi s di" - one of these special persons has known loneliness, felt the solitary hours, heard the empty echoes, and is there to mark the way for us. We are assured of company, told that we will make it - that we are almost there now. Suddenly there is a corner to turn, a light to shine, hope and hand to support us. Then in quiet communications, we reach back and take someone else's hand.

~ They were kind to me, those old men, when I was working hard to learn from them these sacred songs. ~

PLAYFUL CALF

-----------------------------------------------------------------

Elder's Meditation of the Day - June 19

"Respect should be given those indigenous nations who still carry on their ceremonies; still following the ancient laws of nature with songs and ceremonies."
--Oren R. Lyons, Spokesman, Traditional Circle of Elders

Many of our Tribes still have the ceremonies, songs and traditions. Today, the ceremonies and songs are coming back even stronger. The Elders have a lot of this knowledge. The young people need to learn these songs and traditions from the Elders. This is the strength of the people. The ancient Wisdom and Knowledge of ancient Laws are hidden in the ceremonies and songs. We should seek out these songs and ceremonies.


Great Spirit,
teach me the
songs and
ceremonies.
Make my eyes
open to see.

-----------------------------------------------------------------

Native Wisdom:

Love is something you and I must have. We must have it because our spirit feeds upon it. We must have it because without it we become weak and faint. Without love our self-esteem weakens. Without it our courage fails. Without love we can no longer look out confidently at the world. We turn inward and begin to feed upon our own personalities, and little by little we destroy ourselves.

With it we are creative. With it we march tirelessly. With it, and with it alone, we are able to sacrifice for others.

Chief Dan George

Habe also das Weisse Haus angerufen, um Bush f?r seine Zustimmung zu 40 Mrd. $ Schuldenerlass zu danken. Schliesslich soll der Pr?sident wissen, dass auch Europ?er derartige Politik goutieren. Hoffen wir auf baldige Umsetzung und weitere Massnahmen wie Verbesserung der Terms of Trade.
Elder's Meditation of the Day May 25, 2005

"If you listen close at night, you will hear the creatures of the dark, all of them sacred -- the owls, the crickets, the frogs, the night birds -- and you will hear beautiful songs, songs you have never heard before. Listen with your heart. Never stop listening."
--Henery Quick Bear, LAKOTA

The night time is full of life, full of song and full of beauty. Have you ever gone outside at night and listened? One has access to serenity and peace. At night all our senses change their roles. Because we can't see, our hearing is much stronger, our smell is even more enhanced, our sight is different. We are able to join nature through sounds and smells, through the songs of the night birds and through the night winds. We can close our eyes and experience interconnectedness in a different way. Try it tonight and experience oneness with the Creator.

Great Spirit, allow me to listen to the teachers of the night.


Msit N?kmaq/All My Relations,
Just before dark sets in the tree frogs begin to call out,in the distance an owl hoots,or you may hear a mole digging in the surface of the ground. You can hear leaves rustle in the woods with the presence of different animals, four legged like the deer, racoons, opossum, skunks, and if you listen closer you may be able to hear earthworms shuffling the leaves. Many sounds come forth at night because during the day everyone is hustling and bustling about to work and all other places,Then as night comes people go home to rest and the noise pollution calms down. This is our connection to our home called earth.

Gitsch Manito-Creator,W?s?q-Spiritworld,
Thank you for the night time and the confirmation that all things do not stand still. Rocks even roll in the dark. This helps me to understand that life goes on no matter what. It helps me to understand I have a part in its existence too and should do my part to preserve it. Thank you Creator for my humble life.

Wel?lin/ThankYou,MsitN?kmaq,ChiMiigwetch,MitaukeOyasin

Gestern hatte ich einen perfekten Tag.

Ich habe mit etwas begonnen, das sich wie ein Keim anf?hlt. Es kam zum richtigen Zeitpunkt. Solche Dinge m?ssen sich von selbst n?hern, man soll ihnen nicht nachlaufen. Stell dir eine Fl?che vor, die riesig und rot ist. In der Mitte leuchtet ein kleines Licht.

Heute bin ich gl?cklich. Ich bekam Post von einem meiner Lehrer. Nach vielen Monaten erfahre ich, dass es ihn noch gibt. Und die Beziehung zur heutigen Meditation ist geradezu verbl?ffend.

Elder's Meditation of the Day April 29, 2005

"The old people came literally to love the soil and they sat or reclined on the ground with a feeling of being close to a mothering power...The soil was soothing, strengthening, cleansing and healing..."
--Luther Standing Bear, OGLALA SIOUX

Have you ever noticed the relationship between children and the soil? Watch how happily they are touching the dirt. The children play in it and eat it. If you are stressed, go to a spot on the Earth, sit down, put your fingers in the dirt, dig in it. Wash your hands in the soil. When you touch it, notice what it does to your hands. Our bodies love to touch the Earth. Sometimes we get too busy and forget these simple things. Maybe you'll even want to plant a garden or flowers. These things are mentally healthy.

Great Spirit, today, let me touch the Earth so the Earth can touch me.

Msit N?kmaq/All My Relations,
Elders have always had a way of teaching us about the earth we live on. They allow us to sit and play in the dirt as children and get the feelings of our relationship and fascination of the dirt. Our lives depend on the earth for survival so we must take care of it.

Gitsch Manito-Creator,W?s?q-Spiritworld,
Thank you for our earth and our connection to it. Help me to always hold high respect for the earth.

Wel?lin/ThankYou,MsitN?kmaq,ChiMiigwetch,MitaukeOyasin
Hier ein wunderbares Gedicht von meinem ?beraus verehrten, gesch?tzten Marcus Garvey.


Keep Cool

Suns have set and suns will rise
Upon many gloomy lives;
Those who sit around and say:
'Nothing good comes down our way.'
Some say: 'What's the use to try
Life is awful hard and dry.'
If they'd bring such news to you
This is what you ought to do:
Let no trouble worry you;
Keep cool, keep cool!
Don't get hot like some folk do,
Keep cool, keep cool!
What's the use of prancing high
While the world goes smiling by.
You can win if you would try,
Keep cool, keep cool.

Throw your troubles far away,
Smile a little every day,
And the sun will start to shine,
Making life so true and fine.
Do not let a little care
Fill your life with grief and fear:
Just be calm, be brave and true,
Keep your head and you'll get through.
Let no trouble worry you;
Keep cool, keep cool!
Just be brave and ever true;
Keep cool, keep cool!
If they'd put you in a flame,
Though you should not bear the blame,
Do not start to raising Cain,
Keep cool, keep cool.

Elder's Meditation of the Day April 11, 2005

"Spiritual matters are difficult to explain because you must live with them in order to fully understand them."
--Thomas Yellowtail, CROW

To know something we must become one with it. We cannot know what a flower smells like until we actually smell it. Close your eyes and experience the fragrance. The Elders say there are two worlds, the Seen World and the Unseen World. To experience the Seen World we need to physically pick the flower and smell it. To experience the Unseen World we need to know about principles, laws and values; and no matter what our mind or our physical senses tell us, we must decide and act on these principles. If someone does wrong to us, we must pray for that person or persons to have peach, happiness and joy in their life. We must not get even or retaliate in any way. Only by doing this can we understand spiritual matters.

Great Spirit, give me your power whenever my weakness shows so I can live by spiritual decisions.


Msit N?kmaq/All My Relations,
Many ideas float around about how one is to act or not act, How one is to speak or not speak. Actually if you live the life and walk in good ways there should not be any concern about any political gossip in our nations. It is like all the gossip about Medicine Men who some say are fake. Where did the accusors acquire the right of passage to do such evil work? Creator is
the Boss not a human.

Gitsch Manito-Creator,W?s?q-Spiritworld,
Thank you for the women, men and children who share their knowledge with me in all matters. This helps me to obtain a better understanding about others and self. This also helps me to look at the wrong I personally cause, when I am criticizing another human being. Please help me to do better in walking the ways you want me to.

Wel?lin/ThankYou,MsitN?kmaq,ChiMiigwetch,MitaukeOyasin


na gut, wiedermal was aus der politik:
?sterreich hat eine neue partei! die FP? hat sich endlich gespalten, um noch mehr w?hler zu verlieren.
die gl?ckliche neue partei heisst BZ?.
b?ndnis zukunft ?sterreich (dass ich nicht lache). das sind die anst?ndigen menschen, denen ?sterreich am herz liegt. die ihre aufgaben ernst nehmen. die noch handschlagqualit?t haben, oder? wie der gesch?tzte herr doktor haider - es ist in intellektuellen wiener pipi-kreisen ja beliebt, ihn mit doktor zu titulieren. aber wo bleibt da die treue bis in den tod, wenn der herr doktor nicht mehr FP? ist? ausserdem hatte er doch den k?rntnern was versprochen? naja, nicht mein kaffee.
jedenfalls... ich wollte dar?ber mal genauer bescheid wissen, oder. ob die BZ? ?berhaupt das recht hat, an der derzeitigen regierung beteiligt zu werden? weil eigentlich bekam die BZ? ja keine einzige stimme bei der letzten wahl. vielleicht treten sie ja auch erst zur n?chsten an.
um mich zu vergewissern, dass da kein schindluder getrieben wird, habe ich gleich auf die
homepage der neuen partei
geschaut, meine damen und herren, die pr?sentiert sich sehr ?bersichtlich und wahrscheinlich garnicht mal so teuer wie... jaja.
da steht eine nummer drauf. die k?nnt ihr auch alle anrufen. f?r alle infos verweise ich direkt an 0664 - 82 57 607.
das ist zwar nicht der herr scheuch, wie es auf der homepage heisst, aber doch immerhin sein pressesprecher, herr ferrari - und - nochwas (doppelnamen sind ja hierzulande hochpopul?r geworden).
also, ich hab grad mit ihm geredet und ihn gefragt ob die ?berhaupt mitregieren d?rfen. er wusste es offensichtlich auch nicht. er hat mich auf die nexten 2, 3 tage vertr?stet. offensichtlich m?ssen die das noch selbst rausfinden. ja, so ist das in der demokratie. ist ja auch nicht so wichtig, oder.
am samstag war vice magazin er?ffnungsparty in der urania, anfangs die volle posh party, dann wurde es etwas lockerer. habe also meine
prinzessin concetta
getroffen die dort ein DJset spielte und mich sehr fein mit ihr unterhalten, und auch noch schamlos meine songs promotet. sie ist echt eine total liebe.. an einem punkt waren wir uns nah, das war lustig, ich f?hlte mich wie auf nem maturaball oder so. und busserl zum abschied. oh, und sie ist so verdammt cool. ihr wollt ein bild? okey..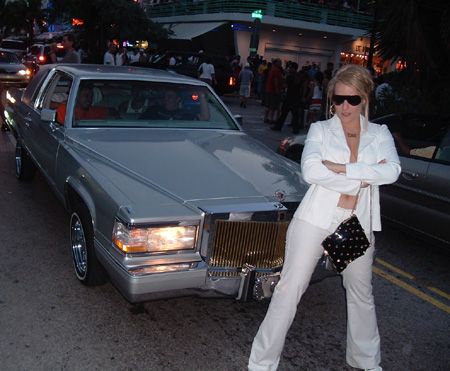 abgesehen davon hat eine andere DJane leider grad keine zeit mit mir was zu machen weil sie so wie ich an einer uni arbeit schreibt. nebenbei programmiere ich also selber den einen oder anderen loop. auch wenn cubase alle 5 minutn abst?rzt, dreckssoftware. und: das mit der zusammengemixten kickdrum m?cht ich schon noch gern im original. naja, hoffentlich hat sie im april zeit.
ich schaute grad in den spiegel und meine blauen augen haben in dem teil der blau ist also nicht den pupillen sondern dem blauen drumrum.. da ist ein schwarzer strich drin

in beiden augen, ein schmaler schwarzer strich von der mitte nach aussen

ich habe das meer gesehen, meine lippen wurden salzig von der gischt. und ich habe begriffen, dass ich mehr will. mehr gischt, mehr salz. mehr wilden sturm in meinen haaren. ich will es rauschen h?ren, schlagen, stark und unb?ndig. ich will, dass wellen mich zu ihresgleichen machen. ich will wei? sch?umend gegen deine felsen schlagen, sie waschen, weiter in dich dringen.. langsam. mein salz soll auf dir trocknen, bis wir eins sind, irgendwann.
day after day
love turns grey
like the skin of a dying man

night after night
we pretend it ?s alright
but i have grown older
and you have grown colder
and nothing is very much
fun anymore

and i can feel
one of my turns coming on
i feel cold as a razor blade
tight as a tournicade
dry as a funeral drum

RUN to the bedroom in the suitcase on the left
you ?ll find my favourite axe
don ?t look so frightened this is just a passing phase
one of my bad days
would you like to watch t.v.
or get between the sheets
or contemplate a silent freeway
would you like something to eat?
would you like to learn to fly
would you like to see me try

(Roger Waters, The Wall)
Elder's Meditation of the Day February 22, 2005

"In the Indian way, we are connected to that flower if we understand its spirit, the essence of its life."
--Larry P. Aitken, CHIPPEWA

Everything on our Earth is alive. Every rock, every plant, every animal, every tree, every bird, every thought is alive. This is true because everything is made by the Great Spirit and the Great Spirit is alive. We need to slow our lives down each day and realize, consciously, that this is true. First we need to realize it, second, we need to acknowledge it, third, we need to appreciate it and, finally, we need to go on.

Great Spirit, let me see life through Your eyes. Today let me be alive.


Msit N?kmaq/All My Relations,
We need to stop saying things unless we really mean it. To tell a person something then recant it is the same as lying. So where is our connection when we do not speak the truth?

Gitsch Manito-Creator,W?s?q-Spiritworld,
Please help me to remain strong and to keep my word in all that I speak. Please help me to remain honorable to my vows and committments.

Wel?lin-ThankYou,MsitN?kmaq,Chi-Miigwetch,MitaukeOyasin

Elder's Meditation of the Day February 18, 2005

"Laughter is a necessity in life that does not cost much, and the Old Ones say that one of the greatest healing powers in our life is the ability to laugh."
--Larry P. Aitken, CHIPPEWA

Laughter is a good stress eliminator. Laughter causes healing powers to be distributed through our bodies. Laughter helps heal relationships that are having problems. Laughter can change other people. Laughter can heal the sick. Laughter is spiritual. One of the greatest gifts among Indian people has been our ability to laugh. Humor is natural to Indian people.
Sometimes the only thing left to do is laugh.

Great Spirit, allow me to laugh when times get tough.


Msit N?kmaq/All My Relations,
When we laugh we are releasing things that would otherwise make us ill. It is a way to get rid of toxic stress on our bodies. Don't you feel so good after a good laugh? The body tingles at times and this is helping the circulation pathways. So who says Laughter is not good mecicine for the heart? Sadness and stress kills!

Gitsch Manito-Creator,W?s?q-Spiritworld,
Thank you for showwing me I can laugh at things in order to come to terms with them. Thank you for the Sacred Clowns.

Wel?lin-ThankYou,MsitN?kmaq,Chi-Miigwetch,MitaukeOyasin

"The music business is a cruel and shallow money trench, a long plastic hallway where thieves and pimps run free, and good men die like dogs. There's also a negative side." (Hunter S. Thompson)

Rest in Peace.
irgendwer hat paris hiltons mobiles telephonbuch gehackt und im internet ver?ffentlicht.

wer schon immer eminem, die neptunes, fred durst, christina aguilera, stephen king (?!! was hat der mit paris hilton... ich werd mal per email anfragen), vin diesel, usher, avril lavigne (jaja, lol), zur abwechslung anna kournikova, ein paar models oder eine reihe weiterer celebrities und influential people im showbiz sprechen wollte hat nun seine chance. ein mysteri?ser "egplant dike ass" ist auch dabei, wer das wohl sein soll, naja..

allerdings ist ger?chten zufolge auch schon der secret service dran, wer also das interessante b?chlein im netz findet, sollte es nicht unbedingt verbreiten.

[eine Seite weiter]